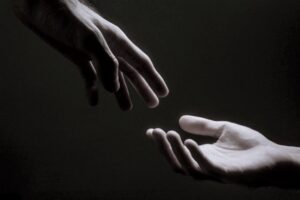 The alabaster jar has been sitting on the shelf for as long as I can remember. Just sitting there, unopened, gathering the dust of years. I can barely look at it. The jar is meant to be so full of promise – a gift from a parent to a child to be given to the new husband and broken at his feet as an act of commitment, honour and devotion. But I have no need of such a gift or promise. There is no one who would consider me as a bride. My hopes are unfulfilled, wasted, as the jar sits there accusing me, as I have given myself to so many different men. I have lost count of the number of men who have used and abused me. I do not know their names and I am now nameless and ashamed, my entitlement to marriage gone. But the jar of precious perfume, the oil that should be poured out as an act of extravagant love, sits there still.
I heard that a new teacher had arrived in town. It was said that He was a friend of tax collectors and sinners, that He loved the un-loveable, that He touched the untouchable, that He could heal and that He could forgive sin. My sin lays heavily upon me and burdens my soul and my very being. The weight of it is crushing me. Could this teacher lift the weight of my guilt and sin and set me free? I was no longer afraid of those who judged, accused, tormented, hurt and spat at me in the street. I would walk past them and their taunts and find this Jesus. I would pass their doors and windows and seek the mercy of the One who says that He can forgive and redeem.
But how can I enter the house of the Pharisee? I have met with so much rejection that it is an old friend to me. so, I will not knock at the door to be turned away. I have decided. I will take my precious jar, the one thing that I have and enter secretly, quietly, unnoticed. My one thing I will give to Him, pouring out the precious oil from the jar, as my act of love. I am nothing. So, I entered the room secretly, hiding my face and settled at the feet of the prophet, the One on whom all my hopes were laid as He reclined at table. My heart was bursting with emotion – my overwhelming need, my longing for forgiveness and relief, my love and devotion for the one who could turn my life around. And so, my scarf falls away and as my tears fall freely, I wash His feet, dry them with my hair and pour out the precious perfume on His feet. The room is filled with the perfume but also the angry silence of the onlookers and the Pharisee. He says nothing. He does nothing. They are all stunned by the sight before them.
The horrified silence is broken by the gentle words of the teacher Himself. "Simon, I have something to say to you". A story of forgiveness followed, a story of two debtors, one who owed little and one who owed a great deal. Both were relieved of their debt and released. Then a gentle rebuke to the Pharisee. "You gave me no warm greeting, water for my feet, or oil for my head and yet this woman has not failed to wash and kiss my feet and anoint them with oil." He knew me. He had seen my need and my love, my silent pleading and repentance and gave His forgiveness and His peace. I will remember His words until my dying day: "Your sins are forgiven." "Your faith has saved you, go in peace." Those words are written on my heart.
My precious alabaster jar with its perfume is gone – but so is my sin.
The Pharisee had seen my lifestyle, my notoriety and my many sins. He had not seen me. The teacher had seen my heart, my sorrow, my desperate need for change and my longing for a new way of love. He had found me. I left that place in peace.
Jane Coates. 16 August 2021