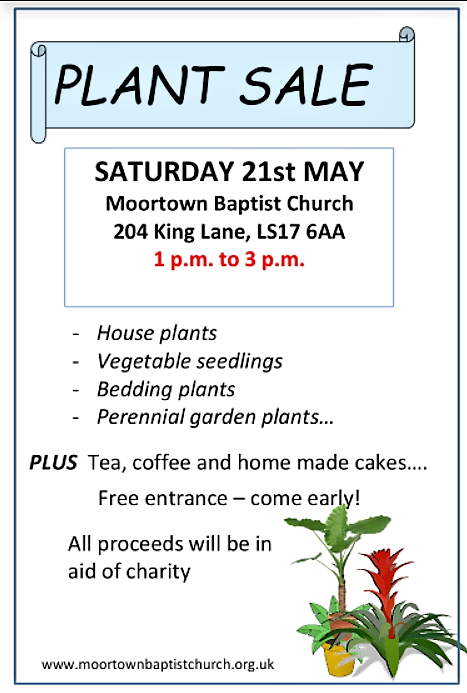 MBC's Plant Sale – which this year is supporting our friends in Romania as they reach out to their neighbours in Ukraine will take place here at church on Saturday 21st May. 
Below there is an extract from an email that Jenny Dixon sent round the organising team; if there is anything in it that you would like to help with please make contact with the relevant person.
Plants:
– plants can be brought on Saturday morning or left behind the church garden before then if you can't get in on Saturday.
– please do label your plants so we can tell buyers about them.
– please do remove dead leaves, slugs etc so they look as nice as possible!
On the day :
The plant sale set up will be 9-12 on Saturday 21st, with doors opening at 1.  Our proceeds this year will be going to support our Ukraine initiative.
– we need to set up the tables in the sanctuary
– we need to put a price label (these will be pre-written) on each plant and bring them in to the appropriate table
– we need to set up for refreshments
During the sale :
– volunteers needed to tell our visitors about the plants and generally help them
– volunteers needed to add up the purchase value while people are queuing to pay so the till volunteer doesn't have to
– volunteers to take payment at the 'tills' so the queue moves quickly through and people aren't waiting with heavy loads
After the sale :
– clearing up!
So we would very much welcome help doing all these things.  The most work-intensive period is the setting up.
– We also need cardboard boxes or big bags for people to put plants in, please bring them in to church any time
– Gwynneth is looking after refreshments (thank you Gwynneth) so please contact her if you can help out with cakes – they are always a massive attraction!
Please could you let me or Nicky Gibb know if you are up for any of these roles? We've had great help in the past which has been key to making the sale so successful. You can email me on jennyveg11@gmail.com or contact me on 07580 301641.