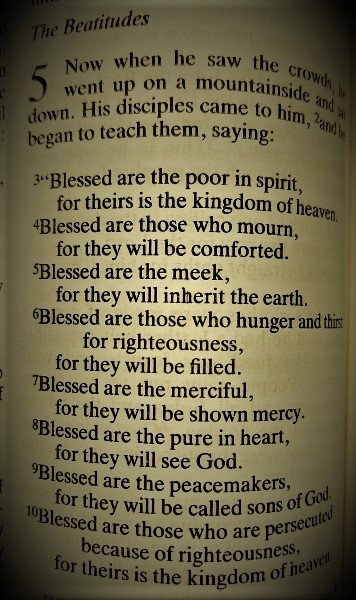 "Happy are those whose greatest desire is to do what God requires; God will satisfy them fully! JBP 
Food stands along all the roads, picnics on all the hills. 
Babies and small children have a clear system of notifying parents and carers when they are hungry or thirsty and they need food, milk, or water. They cry, may become crotchety, irritable, and can clearly make their needs known. When our son was small, and even into teenage years, we never left home without an emergency pack of food and drink. This would consist of a cereal bar, apple, banana, and a drink and sometimes a chocolate bar as a treat. These emergency rations would accompany us to the cinema, park, and any outing from home as we attempted to avoid his rising irritability and reducing low blood sugar levels. By contrast, I cannot remember a time when I was hungry or thirsty. By building into my day a regular pattern of four meals with snacks and drinks in between whenever possible, I can maintain a good balance and satisfy my needs for nutrition and fluids. It is hard to imagine what it must feel like to be without food or water for days or even weeks, and to have to survive with minimal nutrition. Many in our world today are in this desperate position of being hungry and lacking clean water and it has been distressing recently to see the images of famine in Madagascar not caused by war but by climate change. 
In this Beatitude, we are called to have a hunger and thirst for God and for His righteousness. I am to tune into the hunger pangs, the cues, that make me recognize my need of Him and so have an appetite and longing for Him. Sadly, often days go by, and I have missed the hunger cues and signals. I have been too busy, too focussed on other things and have not had a regular pattern of meals with Him- spending time with Him. So, my appetite has reduced and become dulled. Jesus promises me that if I come to Him, I will never be hungry and I will never be thirsty. I love this image from Isaiah of food stalls along the way and picnics on the hills as I travel with Jesus. I need to have my regular meals, but there are the emergency rations to hand too. I can be satisfied, supplied, enlivened, and I can be full. Nothing else will fully satisfy. 
Father God 
May I be childlike and cry out to you for help and for your presence. 
May I be aware of your presence and nurture during the day, beginning and ending each day with you. May I be thankful for your constant care and provision. Amen 
They will never be hungry or thirsty. Sun and desert heat will not hurt them, for they will be led by one who loves them. He will lead them to springs of water. Isaiah 49 v 10  
There'll be food stands along all the roads, picnics on all the hills— Nobody hungry, nobody thirsty, shade from the sun, shelter from the wind, For the Compassionate One guides them, takes them to the best springs. Isaiah 49 v 10 The Message 
He satisfies those who are thirsty and fills the hungry with good things Psalm 107 v 9 
"I am the bread of life," Jesus told them. "Those who come to me will never be hungry; those who believe in me will never be thirsty. John 6 v 35 
The people ate and were satisfied. Afterward the disciples picked up seven basketfuls of broken pieces that were left over. Mark 8 v 8 
————————————————————-
Blessed, content, sheltered by God's promises, are the merciful, for they will receive mercy. Amp 
He has showed you, O man, what is good. And what does the Lord require of you but to do justly, and to love kindness and mercy, and to humble yourself and walk humbly with your God? Micah 6 v 8 AMP 
"You're blessed when you care. At the moment of being 'care-full,' you find yourselves cared for. The Message 
I am not sure if you have read the book Wonder by R.J. Palacio or its film, about 10 year old August Pullman and his journey through High School. August has a rare genetic disorder which has caused a severe facial difference and the book follows his journey through school after being home schooled and protected by his family. August meets with cruelty and bullying in school but also with acceptance and kindness and can survive and thrive through the kindness of friends. The book explores issues of difference and acceptance, friendship, prejudice and bullying but most of all kindness. Every month one of the Teachers, Mr Browne, chose a precept or ethos statement for the students to follow and one of my favourite ones was the following quotation: When given the choice between being right or being kind, choose kind. Dr Wayne W Dyer This book went on to inspire the 'Choose Kind' Movement based on the idea presented by the headteacher of the school in his graduation speech to the students. "If every single person in this room made it a rule that wherever you are, whenever you can, you will try to act a little kinder than is necessary, the world would be a better place."  
Jesus calls us to compassion. We feel compassion and concern when we see and feel the distress and needs of others. But there is action associated with compassion and that action is mercy. When compassion takes action to relieve pain, distress or need then compassion becomes mercy. Mercy is a 'noun'-it's a mission, an act, or a kindness shown. But we are asked to go beyond this- we are asked to 'love' mercy and kindness- not just to do it occasionally but to 'love' it. We are asked to be kind and merciful not just when it is convenient or others are watching or to receive credit for it, but we are to live the way of compassion and mercy all the time. We are to care, to offer kindness, comfort, acceptance, and forgiveness. This is a life transforming, costly and generous way to live but this is the way of Jesus. 
Do all the good you can, 
By all the means you can, 
In all the ways you can, 
In all the places you can, 
At all the times you can, 
To all the people you can, 
As long as ever you can.  
John Wesley's Rule