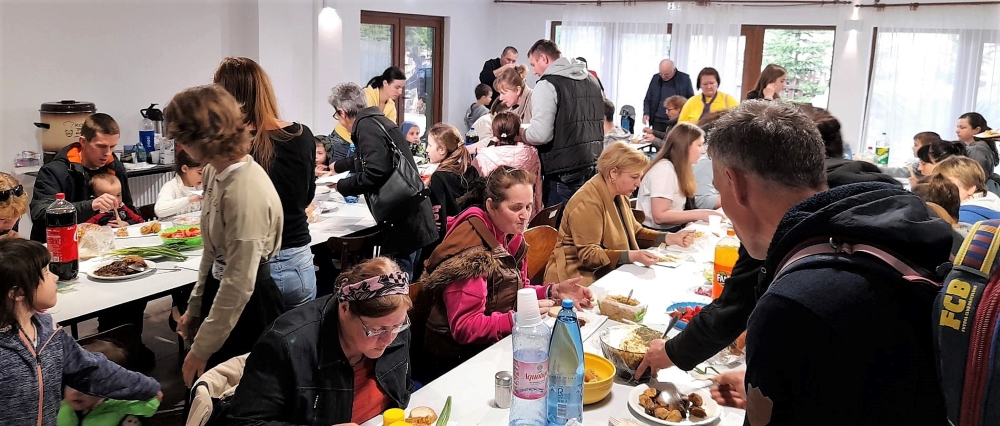 This is a newsletter from our Manastur Church, with information about our projects among the Ukrainian refugees in Cluj and also in Ukraine. Please feel free to send, print and distribute it to your Moortown Baptist Church members. All this help we provided to Ukrainians was possible because of the faithfulness of generous and loving believers like you.
Florin Fodor, on behalf of Manastur Church in Cluj.
Everyone that is coming to the city of Refuge bring their personal experience, a dramatic story and trauma. When the Church become a city of refuge, things change and there we have a place of comfort, healing and transformation. This was our experience as Church in the last couple of months, receiving our Refugees brothers and sisters from Ukraine. We did our best to be a blessing to them and we experienced God's blessings abundantly.
We want to share with you the joy and encouragement from a new and surprising episode of our Church life.
Jesus special visit to us
On February 24 when Ukraine war started, we didn't get the details of God's plan. We simply realized that Jesus will pay a visit to us in a new special way and we will better be ready. With that in mind we had our shortest but most fruitful Church Board meeting – we opened everything we had as Church for Ukraine Refugees, including Church facilities, Camp site and Church apartment, plus our full support. A Refugee Team was appointed, an action plan and structure were settled the next day. We wondered how could we provide for all possible needs. God responded in just few days and Church Offering next Sunday was beyond any expectation. We were overwhelmed by the high number of people that opened their houses to host Ukrainian families, volunteered to provide clothes, food, transportation, translation or donate for this cause. We basically experienced God's provision to start fulfill His plans.
Ukrainian community in our Church
We assisted over 300 Ukrainian Refugees since the war started. Some of them were brought by us by bus from South of Moldova. For some others we drove to the border to meet them. Some others contacted us by Telegram, Viber or simply called us. We hosted some of them for a night or two, for a week. We did heard from one lady that was in transit to Italy ""I NEVER experienced so much love in all my life. We want to be part of such a church, so please help us find one like yours in Italy".
We did see a lot of Ukrainians interested to stay here in our Church, hosted by our families and waiting for the war to stop and then return to Ukraine. Over the last month we had an average of 90-100 refugees that decided to stay. Currently we host 87 Ukrainians, of which 49 are Children. They are much more than a number, they became a Community, a Community of faith. We learned we may do a lot for them, but the best will be to help them become a Community. God sent here two pastors – Ivan and Oleg – from Dnieper and Cherkasy and Roman, a great evangelist from Mariupol. After that we got three Sunday School Teachers (Iryna, one of them is National Leader of the Children Ministry in Ukraine). After that we welcomed the Tutkyevich family – a complete musical professional family from Odessa.
So, our Church worship is now Romanian and Ukrainian, not only as translation but also as input – Ukrainians are now a constant part of Church services – songs, messages, prayers and Ukrainian Classes Sunday School for Children. Now Roman and his team already shared the Gospel with over 100 Ukrainians in the City Canteen where a lot of unchurched Ukrainians go. They were also distributing Bibles, and Bible literature and some of the people he met, visited our church.
How do we help Ukrainians?
We provide help for Ukrainians in different ways:
Accommodation in loving Christian homes (living with hosts or in separate apartments)

Food (welcome pack, weekly pack, fresh food, Sunday meals in Chuch facility, lunch in Christian homes)

Transportation for Refugees (local, national, international)

Spiritual and emotional support (by specialized Russian speaking Christian therapist)

Legal advice and registration support

Professional support and advice in getting a good job according to skills – all active men already have a job and some of women got a job too

Children Ministry in Ukrainian (two classes – preschool and school kids)

Translated programs in Ukrainian through dedicated translation system

Medical assistance and support – facilitate specialized medical visits and investigation according the needs (some already had MRI, Surgeries, Pregnancy Assistance, Dentistry etc)

Medicine supplies – we provide for free medicines – from general use drugs to more specific according to the prescription

Refugees shepherding – Home groups are responsible for specific families and they provide more specific assistance for different spiritual or material needs

Weekly meetings of Ukrainian Community – every Sunday evening
Creative workshop for Children
We are so blessed to have over 49 Ukrainian children in our community, along with their families. We tried to hear their voices, understand their prayers and needs. Art is a good way to communicate in a trauma environment we helped them paint. Iurie Cojocaru, one of the best Christian Artists in Cluj, led us in this journey to Ukrainian kids' hearts. It has been impressive to see great gifts but even more touching to see their prayers on canvas. "May the Lord have mercy on Ukraine" "God loves us very much" "Peace for Ukraine" "May the Lord protect Ukraine". Simple but meaningful prayers through art. Marina, one adopted girl from Odessa drew "Ruins through my window" and one small girl from Mariupol painted "My house". Few hours later they found out their apartment building was bombed again and is now a ruin. She and her family have no home to return back to Ukraine.
All this experience helped us hear children's hearts cry and see their hopes revived. It helped the parents discover the treasures in their kids. It has been a special moment that was a step in healing for kids and parents. We had a couple of hours when time stopped and joy refilled everyone. All artworks together built the image of a dove, the most suggestive symbol of the peace that the world and especially Ukraine are starving for.
Retreat for Ukrainian friends
We welcomed our special friends in our Church Camp site during Easter vacation – an amazing spot in the Carpathian mountains, one hour drive from Cluj. Fresh air, tasty Romanian food, great fellowship, inspiring stories, new relationships and bridges.
We learned from pastor Oleg he was now losing his house in Cherkassy for the second time – first it was a dramatic burn and then his wife and kids were saved in a miraculous way. God was faithful and his house was rebuilt and was even nicer. He left the house two months ago but he trust the Lord is now and forever faithful
Roman is a passionate and active evangelist from Mariupol. In our retreat he shared how he learned to be thankful even when he got the sad news – his block was hit twice by Russian rockets, the second time the structure was compromised. His wife is expecting a baby in early July. God helped him to get a good job here and answered a prayer they had – to have a car to drive his family. The company where he works allowed him to use the car for his family too. Seeing Roman and Vera, his wife you will be surprised to see a smile and hear an encouraging word every time.
Andrei is the only Ukrainian in the group that speaks Romanian. He got a good job in a local brand coffee shop chain and now he feels so blessed to be so much loved and appreciated. His friends back in Ukraine are amazed to see how God cares for him.
Time stopped for a while but still not enough. An experience to be replicated soon:)
Humanitarian Aid to Ukraine
We learned that the most significant material needs are in Ukraine, especially the places we are not able to reach. We prayed and searched and God opened doors and we discovered great partner Churches in Chernivtsi that can get to war zones and provide food, medicines and personal goods to people that needed the most. We did one such transport in April and we plan the second transport this weekend. All materials are good quality, brand new as we know God deserves our best. Please pray and be ready to join us in this significant effort to show God's love in a very tangible way.
It is hard to predict how things will look like in a few months as most of the elements are out of our control. But we do plan to respond to significant needs in a more articulated way. All this projects will be developed along with our ongoing material, emotional and spiritual support Please join us in prayer and support for next projects:
Humanitarian Aid #2 to Chernivtsi, Ukraine – May 7-8

Humanitarian Aid #3 to Chernivtsi, Ukraine end of May

VBS for Ukrainian Children in Cluj – June 16-20. We plan this as an evangelistic event that might help us reach Ukrainian Children and families from inside and outside of our Church Community.
Thank you so much for being such a committed prayer warrior and supporter of this Ministry to Ukrainian Refugees. We know we have a limited time so it is our prayer to be used by God to help, comfort and bring hope through Christ.