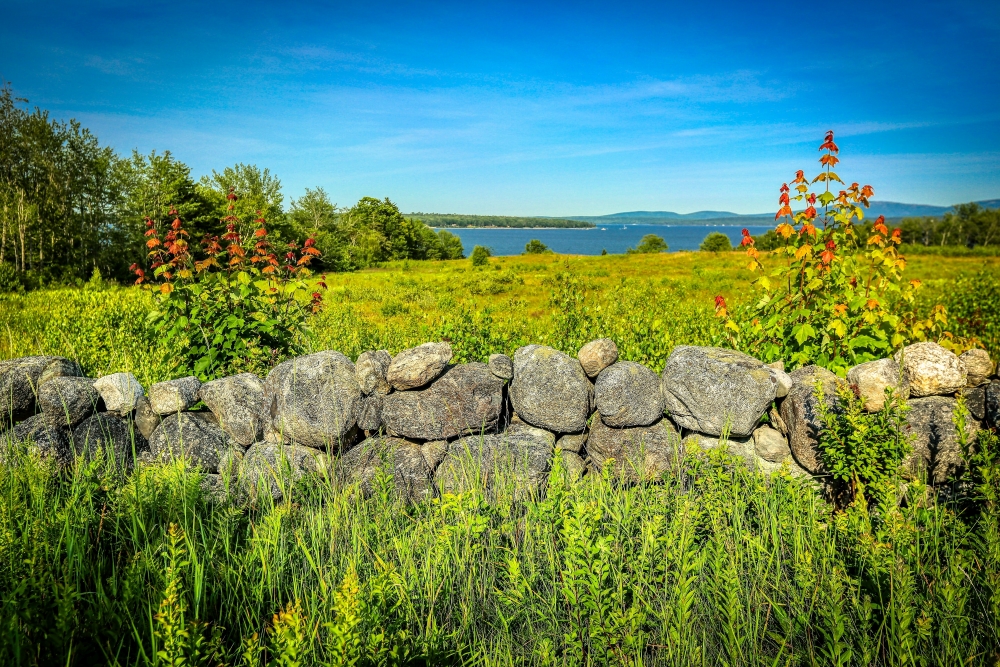 In Him [and in fellowship with one another] you also are being built together into a dwelling place of God in the Spirit. Ephesians 2 v 22
Brick walls are made using identical shaped blocks glued together with mortar, but dry-stone walls are just a stack of stones- stones of different sizes and shapes, laid together, one on top of another. The stones are placed slowly and carefully, tightly packed together, locked under their own weight, by the skilled and experienced eye of an expert builder. There are no gaps between the stones so that the stones in each layer look like interconnected jigsaw pieces. Dry-stone walls really have two walls or sides, built very close together and 'in-filled' with smaller stones. As the twin outer sides are built, they form an 'A' shape, with the wall at the base being a little wider than the wall at the top for stability. Each layer of wall has large stones (tie-stones or through stones) at key places, holding the two sides together, with the essential smaller stones packed in between them.
As I have thought about these beautiful walls, perhaps there are lessons about 'being church' that we can learn from them and their construction.
Specialist builders use the stones that they have or that can be found in the fields nearby. It would be lovely to have perfectly formed and shaped stones, but very unlikely that such perfectly flat, squared off stones would be available and just where they need them. So, the builders must use what they have-stones with bulges and bumps, and a vast array of odd shapes too.
The wall is only held together by the sheer weight of stone, and so it is the skill of the builder that is crucial when he selects and fits the stones together. Each stone is used to its maximum benefit by a master builder.
Many different stones are needed- face stones for the front, filling stones, through stones (for strength), cover stones, capping stones (the protective stones at the top) and so on. Every kind, shape and size of stone is essential and needed.
The large, flatter 'through' stones are essential for the wall's strength and must be placed at regular intervals to hold the sides of the wall together. Without these stones the wall would bow and might collapse.
As a guiding principle each stone rests on two others and each stone has to support the stones on top of it.
The brilliance of the dry stone-wall is that it can flex and move- it is flexible! As the ground settles or moves a well-built dry stone-wall will simply move with the ground. So, good construction is vital.
The dry stone-wall is fundamentally held up by friction and gravity. The friction between the stones keeps them from sliding apart and the sheer weight of the stones means that it will stand firm.
The good builder steps back at regular intervals to look at his work. Is the wall pleasing to the eye, is it standing true and is it following his marked-out guidelines?
He's (God) using us all—irrespective of how we got here—in what he is building. He used the apostles and prophets for the foundation. Now he's using you, fitting you in brick by brick, stone by stone, with Christ Jesus as the cornerstone that holds all the parts together. We see it taking shape day after day—a holy temple built by God, all of us built into it, a temple in which God is quite at home. Ephesians 2 v 22 The Message
So, you are no longer outsiders or aliens, but fellow-citizens with every other Christian—you belong now to the household of God. Firmly beneath you in the foundation, God's messengers and prophets, the actual foundation-stone being Jesus Christ himself. In him each separate piece of building, properly fitting into its neighbour, grows together into a temple consecrated to God. You are all part of this building in which God himself lives by his spirit. Ephesians 2 v 22 JBP
And now you have become living building-stones for God's use in building his house. What's more, you are his holy priests; so, come to him—you who are acceptable to him because of Jesus Christ—and offer to God those things that please him. 1 Peter 2 v 5 Living Bible
Welcome to the living Stone, the source of life. The workmen took one look and threw it out; God set it in the place of honour. Present yourselves as building stones for the construction of a sanctuary vibrant with life, in which you'll serve as holy priests offering Christ-approved lives up to God. 1 Peter 2 v 5 The Message
PRAY
Father God you are the master builder and you have set Jesus, your Son as the chief cornerstone.
You are building your church with living stones, people of different identities, cultures, backgrounds, shapes, and sizes. We are imperfect and sometimes rub against each other, but all are needed. I am needed.
You have placed us here in our church carefully and deliberately. This is the place where you want us to be. May we support each other as we stand in this place of your choice. All are needed. I am needed.
We are imperfect, with rough edges, but we are yours.
I may be concealed in the centre, I may attract attention on the outer edges, I may be a significant 'tie stone' or a cap stone but I am needed.
When storms come and rock and shake your church, may we flex and bend and stand secure. You have built well.
Build us Lord. Amen
Jane Coates